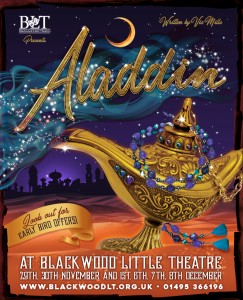 Aladdin - by Vic Mills


November 29th & December 6th at 
7pm
, 
November 30th, December 1st, 7th & 8th at 2.30pm
ALL PERFORMANCES ARE NOW SOLD OUT  - PLEASE CLICK 'BOOK' FOR SINGLE TICKETS ONLY. 
SINGLE TICKETS ARE AVAILABLE FOR CERTAIN PERFORMANCES ONLY. 
All Tickets £12  Group Ticket (4 Seats) £40
Early Bird Offer £10 Single Tickets and Group Ticket (4 Seats) £35 Until September 30th 2019
We travel to ancient Peking this Christmas for the magical, romantic and hilarious story of Aladdin. A handsome young man from the backstreets of the city has his life changed by a terrifying stranger and by a beautiful princess. Helped and hindered by the maddest mother in all China he will he will prove that love, and a grubby old lamp, can conquer all.
PLEASE NOTE: 
All persons entering must have a valid ticket and this pantomime is not suitable for under 3's
The theatre has no provision for the storage of prams or strollers/pushchairs - we apologise for this, but we are a little theatre, and space is at a premium. 
The Theatre reserves the right to cancel the performance at short notice due to unforeseen circumstances, such as dangerous and adverse weather conditions for the safety of the audience, cast and volunteers of Blackwood Little Theatre.