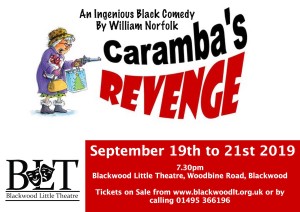 Caramba's Revenge  - A Black Comedy
by William Norfolk 
September 19th, 20th & 21st 2019
All Tickets £7.50
Two Tickets for £10 - Ongoing Offer

This production is being staged in order to raise funds for Hospice of the Valleys through donations (from ticket sales) and a raffle.  

In a very ordinary-looking terraced house live 3 apparently sweet elderly ladies, pooling their resources to have a comfortable life. Lottie is (slowly) writing the latest, Chandleresque (she thinks) Great American Detective Novel, Doris is a bit scatty and is fond of a tipple and Marge the self-appointed master-chef. When Ronnie, a young, bubbly, woman comes to the house seeking her long-lost Grandma, Violet, whom she has never met, we see just how far they will all go to protect their lifestyle! 
730pm.  Doors Open at 7pm