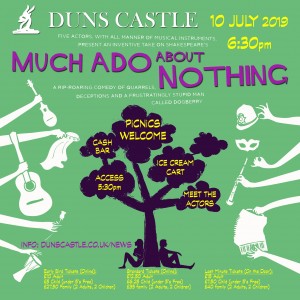 After the success of Hamlet last year, the hugely talented Shakespearean theatre troupe "The Three Inch Fools" return to perform their musical, humorous and brilliant interpretation of Much Ado About Nothing. Masters of their craft, they will provide an evening of family entertainment and bring a vibrant, engaging and fresh approach to what is one of Shakespeare's most popular comedies.
The Three Inch Fools are a five-strong troupe of actors and do Shakespeare differently - a fast-paced, musically-driven style, using all sorts of different instruments, plenty of multi-roling and many a quick costume change along the way.
Five actors, with all manner of musical instruments, present an inventive take on Shakespeare's Much Ado About Nothing - a rip-roaring comedy of quarrels, deceptions and a frustratingly stupid man called Dogberry.
Returning from the battlefield as brave soldiers, Claudio and Benedick find themselves battling feelings of the heart as they are reunited with Hero and Beatrice. A series of misunderstandings, mistaken identity, and a scheming brother threatens to sabotage Claudio's attempts to woo Hero. While Benedick and Beatrice find themselves stubbornly fighting their feelings for one another.
By means of "noting" (which, in Shakespeare's day, sounded similar to "nothing" as in the play's title, and which means gossip, rumour, and overhearing), Benedick and Beatrice are tricked into confessing their love for each other, and Claudio is tricked into rejecting his darling Hero at the altar on the erroneous belief that she has been unfaithful. Benedick and Beatrice join forces to set things right.
Date: Wednesday 10 July
Venue: Duns Castle, Duns
Time: 6.30pm
Prices: Advance Tickets -
Family (2+2) - £35, Adults - £12.50, Children £6.50. Under 5's Free Plus booking fees. 

Last Minute Tickets may be available at the door on 10 July if space allows (£15 Adult, £7.50 Child, £40 Family of 4).
Seating will be on the lawn, and spectators are encouraged to bring camping chairs or, for a small price, reserve tables and chairs for the duration of the performance. Spectators should also dress according to the weather forecast and potentially cooler evening temperatures. A cash bar will be available onsite. Ice Cream will also be on sale. Picnics are welcome. Spectators are not permitted to bring alcohol onto the premises and are kindly asked to dispose of all rubbish responsibly at the end of the performance.
Access will be permitted from 5.30pm (pedestrians via Castle Street and cars via Main Entrance)
Spectators arriving on foot are advised to be onsite by 6.00pm*
Reiver's Cavalcade 6.10pm - 6.30pm*
The performance will commence at 6.30pm*
Act I: 6.30pm - 7.45pm (approx)
Interval from 7.45pm to 8pm (approx)
Act II from 8pm - 8.45pm (approx)
Meet and mix with the actors 8.45pm - 9.15pm
Bar closes at 9.15pm
Departure by 9.30pm (via Castle Street or Main Drive)
*This performance takes place during the week of The Duns Summer Festival (7-13 July). Shortly prior to the performance (6.10pm-6.30pm) a cavalcade of approximately 50 horses and riders, led by the Reiver and the Reiver's Lass, will arrive for the traditional Ceremony of the Rose at the castle.