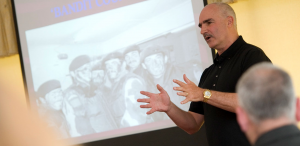 SAS speaker Robin Horsfall
A bullied young man from a broken home, to the army, to serving with the SAS as part of the team that stormed the Iranian Embassy in 1980. However, that's only part of the extraordinary story.
His mission in the Falklands war was a one way mission to destroy enemy aircrafts that got cancelled at the last minute.
Robin is the author of best selling  book 'fighting scared'
Date: Saturday 14 September
Venue: Cardiff Vale Sports Arena, Cardiff
Time: 7.30pm General; 6.45pm VIP
Prices: General ticket £22, VIP ticket £27 with picture. Plus booking fees