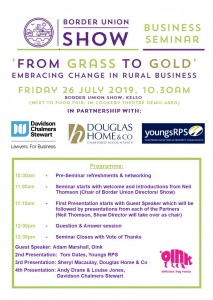 From Grass to Gold, embracing change in rural business. With guest speakers and refreshments
On Friday 26th July the Border Union Show will be Embracing Change within Rural Business with a seminar discussion.  We have a 4 brilliant presentations organised with the opportunity for further discussion built into the event.  The programme is as follows:
10:30am               -              Pre-Seminar refreshments & networking
11:00am              -              Seminar starts with welcome and introductions 
11:10am               -              First Presentation starts with Guest Speaker which will be followed by presentations from each of the Partners 
12:00pm               -              Question & Answer session
12:30pm              -              Seminar Closes with Vote of Thanks 
Guest Speaker: Adam Marshall, Oink
2nd Presentation:  Tom Oates, Youngs RPS
3rd Presentation: Sheryl Macaulay, Douglas Home & Co
4th Presentation: Andy Drane & Louise Jones, Davidson Chalmers Stewart
The Seminar is free to attend but pre-registration is preferred.   
Discounted tickets for the Show are currently available to buy from www.borderunion.co.uk
We look forward to seeing you on the 26th of July.
Date: Friday 26 July
Venue: Next to Food Demo area within showground
Time; 10.30am
Price: - Free