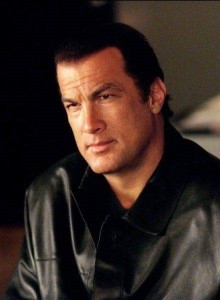 An Evening with Steven Seagal will see the Hollywood movie star, actor, film producer, screenwriter, martial artist and musician take his audience through an action packed night of drama, conversations, stories from his amazing career.  The legend who turned 3 word movie titles into Box Office Gold around the Globe. Hard to Kill, Above the Law, Marked for Death, On Deadly Ground, Fire Down Below and Out for Justice saw Sensei Steven Seagal, become one of the biggest stars on the planet…and who could forget Under Siege 1 & 2's Casey Ryback!.
He will also take part in a Q and A session with his fans.
Steven also starred in Lawman and recently was made Russia's Special envoy to the United States by President Vladimir V. Putin.
It's an opportunity to get the real story of a Hollywood icon that's done so much.
Date: Friday 29 November
Venue: Whitehaven Golf Club, Whitehaven
Time: VIP ticket entry 6.30pm and General ticket entry £7.30
Prices: General ticket £35 , VIP £60 include professional photo printed out on the night plus booking fees