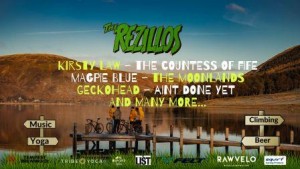 Staged at one of the Scottish Borders most iconic locations, the festival is set to be a stunner!

The Rezillos will headline the inaugural loch-side festival in 2020, alongside an eclectic mix of artists from the like of Kirsty Law, The Moonlands, The Countess of Fife and Magpie Blue - to name just a few.

In addition to the stellar music line up, expect to see a diverse mix of activities on offer. The Festival village will Feature an 11m high climbing wall, childrens introductory cycling coaching, walking routes and yoga classes delivered by Edinburgh's Tribe Yoga instructors.

A driving force behind this wee fest is to try create as minimal an environmental footprint as we can.  One of the many steps we've taken toward achieving this is through offering the choice of riding the bike there and back on fully marked routes...If you're feeling up to the challenge,  you can find a little more information on this option through our website www.mucknmacfest.co.uk. However, if this sounds a little too much (we don't blame you) then we are offering shuttle buses from Galashiels in an attempt to try and minimise the amount of traffic on the roads.
Festival Village pass includes:
Free lochside camping
Onsite catering
Full access to all live music
Unlimited use of outdoor activity services
Family friendly activities for all ages
Free U12's'

Dates: Saturday 4 and Sunday 5 July
Venue: Tibbie Shields, St Mary's Loch, Yarrow Valley, Nr Selkirk
Time: 12 Noon onwards
Prices: £35 event ticket, £10 Bus ticket plus booking fees