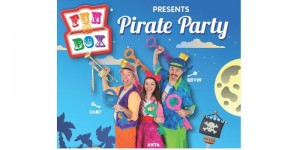 Funbox presents Pirate Party
FUNBOX , formerly the stars of the Singing kettle will be performing PIRATE PARTY
Familiar favourites like 'Over the Irish Sea' and 'What Shall We Do with Drunken Sailor?' as well as brand new songs, will entertain and enthral kids of all ages – from nought to ninety!
The magical FUNBOX contains everything you need to sing songs or have an adventure. Join Anya, Kevin, Gary and Bonzo on their quest to find all the keys . 
Dress up , join in the fun and come dressed as a pirate.
There will even be the chance for some lucky people to help out on stage too ! YO HO HO

Date: Sunday 2 June
Venue: Town Hall, Hawick
Time: 2pm
Prices: Single ticket £12, Family of 4 £42