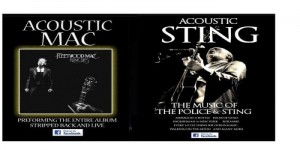 Two Edinburgh Fringe Award Winning Shows in one 2 hour concert.
Acoustic Sting: After sell-out shows at Edinburgh Festival Fringe 2016/2017/2018, Gus Boyd returns to the touring circuit with a new show performing again totally live : Police and ... Sting solo album songs. One guitar, one voice : well crafted interpretations of all the iconic classic tunes with a fresh percussive twist. With a similar vocal timbre and range, Gus delivers with passion and power; songs such as Roxanne, Fields of Gold, Desert Rose, Message in a Bottle, Fragile, Every Breath You Take, Walking on the Moon, Englishman in New York... not to be missed!
Acoustic Mac: Unique! Europe's only acoustic show of Fleetwood Mac's Rumours album in its entirety.
With a voice akin to both Stevie Nicks and Christine McVie, Liz Boyd's voice range and sensitivity coupled with husband Gus's high range voice, percussive guitar style and chord voicings, all create a rich, unique soundscape.Now enjoy these re-worked, stripped back versions of favourite songs. Sweet, tight, two-part harmonies used in lovely, creative arrangements of Don't Stop, The Chain, Go Your Own Way, Songbird, Dreams, Second Hand News...

Edinburgh Fringe Award winners with two sell out shows in 2017 and 2018

Date: Saturday 9 March
Venue: Heart of Hawick, Hawick
Time: 7.30pm
​Price: £12