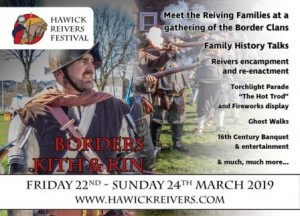 Walk with the Reivers - Hawick to Branxholme Castle -
Join Ian Lowes as he leads a walk from Hawick to Branxholme Castle following in the footsteps of our Reiving Ancestors . On reaching Branxholme Castle a light lunch will be served  in the Castle Hall and there will be a short talk on the history of the Castle itself.
The walk will start in the Civic Space at 10am - places are limited and by ticket only.
Walkers are requested to wear stout footwear and no dogs are allowed. Walkkers must make their own arrangements for their return journey to Hawick. Only 10 tickets available onilne
Date: Sunday 24 March
Venue: Civic Space, Hawick
Time: 10am
Price: £3 plus £1 booking fee