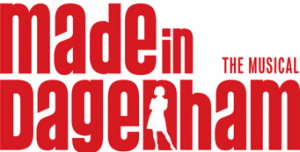 'Made In Dagenham' is a popular feel-good musical comedy about gender equality and women's rights, and is based upon the real-life 1968 sewing machinists strike at the Ford factory in Dagenham, Essex.  The women of the Ford factory are remembered in history as important and influential as Emmeline Pankhurst and the suffragettes. This strike was influential in the passing of the Equal Pay Act of 1970. 
Married mother of two Rita O'Grady encourages the women of the Ford factory to walk out after they are re-classified as unskilled workers while their male counterparts see their wages increase. The women workers status turns into a fight for equal pay and determined not to be treated like 'poor relations', the women vote unanimously to strike. Risking her marriage, friendships and her occupation, Rita continues her efforts for equality and gives a rousing speech at a televised TUC Conference leading to the passing of equal pay within the union. As Rita's achievements are recognised the women celebrate their life-changing success.
'Made In Dagenham' is a funny, touching and timeless story of how ordinary people can do extraordinary things when they stand together.
Wednesday 13th to Saturday 16th May 2020 - 7.30pm  
Saturday matinee - 2:30pmTickets 
Standard £19 / £17 (plus a booking fee)
Restricted Side View £14 (plus a booking fee)
Accessible & Restricted View seating should be booked by calling our box office on 01278 662181