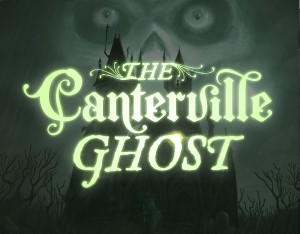 This Halloween, the Brookside Theatre are proud to present a fantastic new stage adaptation of THE CANTERVILLE GHOST, an enigmatic masterpiece from one of the greatest story tellers ever to set pen to paper, Oscar Wilde.

THE CANTERVILLE GHOST tells tale of Harry and Lucy Canterville and their young daughter, Jennifer; a modern family who arrive from America having inherited an old Gothic mansion, which just so happens to be haunted by the tortured spirit of their ancestor, Sir Simon de Canterville. The ghost dates back to the 1500's, knew Shakespeare personally and was even a favourite of Elizabeth I, but after murdering his wife he was doomed to wander the earth for all of eternity. When the family move into Canterville Manor, Sir Simon embarks on an ill fated attempt to spook the trespassers from his ancestral home, but his ghostly machinations hold no fear for this rational modern family. Sir Simon succumbs to utter despair until he meets young Jennifer, who sees him for who he really is...

Featuring breath taking illusions, ghoulish effects, laugh-out-loud comedy and its fair share of 'jump out of your seat' moments, THE CANTERVILLE GHOST is an unforgettable rollercoaster ride... a ghostly treat not to be missed.

Wed 30 Oct - Sat 2 Nov 2019
8pm (2pm Sat mat)
£16 (£13 Conc.)


PLEASE NOTE There will be no booking fee for this event. Wheelchair spaces are available but subject to availability. Patrons with wheelchairs MUST book tickets by telephone at least three weeks prior to the date of the event.