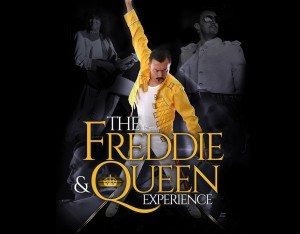 THE FREDDIE & QUEEN EXPERIENCE are the UK's premier Queen & Freddie Mercury Tribute Band, internationally and critically acclaimed - an electrifying show that celebrates the music of unarguably the greatest rock band in the world.
The band performs all over the world with sell out shows in the UK and abroad. They deliver a passionate and energy packed show just full of QUEEN's greatest hits including 
Bohemian Rhapsody, Don't Stop Me Now, A Kind Of Magic, Under Pressure, Someone To Love, Killer Queen, Radio Ga-Ga, We Are The Champions
to name just a few.
Ian as Freddie Mercury replicates Freddie Mercury's live shows with the looks, mannerisms, vocals, charisma, high energy and showmanship that Freddie was so famous for. Complete with replica outfits and instruments, 
THE FREDDIE & QUEEN EXPERIENCE
is made up of some of the finest musicians in the UK, including unarguably the most established and best professional Brian May tribute, Andy Wills. An electrifying show not to be missed... they will, they will ROCK YOU!
Thu 5 Mar 2020
Time 
8pm
Tickets
£25 All tickets
Running Time
2hr 20mins
Age restrictions
6+
PLEASE NOTE There will be no booking fee for this event. Wheelchair spaces are not currently available. MAGIC - A KIND OF QUEEN were unable to perform due to unforeseen circmstances.