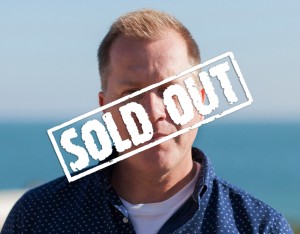 Following numerous previous 'sell-out' appearances, the Brookside Theatre are proud to once again, welcome back the popular star of TV's Street Psychic, Psychic Private Eyes and Psychic Academy.

Tony Stockwell demonstrates his belief that those who have passed can communicate with their loved ones, all delivered with emotion, sensitivity and empathy. We hope that nobody can fail to come away untouched by the experience.
At its best, mediumship has the potential to change someone's life and to instill in them a sense of peace, comfort and purpose.  Psychic Medium, Tony Stockwell is not a new kid on the block and during his 20 years working as a medium he has constantly worked to improve his game and push the boundaries of his communication. In that time he has had umpteen television programmes, taught at some of the most respected schools for mediumistic development as well as setting up his own training school for developing mediums.
Tony Stockwell is sensitive and inspirational; his messages are amazingly detailed and always humorous.

Tony Stockwell is a Spiritualist Medium and spirit communication is part of his own religious belief, but we accept differing opinions exist regarding mediumship. Any demonstration of mediumship is an experiment and results are not guaranteed.

Tue 10 Mar 2020
Time 8pm
Tickets £24 All tickets
Running Time 2hr
Age restrictions 16+
PLEASE NOTE There will be no booking fee for this event. Wheelchair spaces are not currently available.