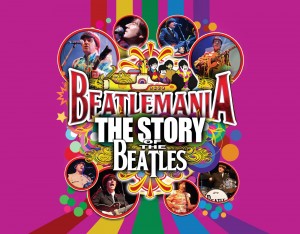 The Story of the Beatles featuring Beatlemania! Join us as the world celebrates the 50th anniversary of 'Let It Be', the final, multi-million-selling release by the greatest band in history.
From 'Love Me Do' to 'Let it Be', all the Fab Four's million-selling hits are brought to the stage, including chart toppers She Loves You, A Hard Day's Night, Can't Buy Me Love, Help, We Can Work it Out, All You Need is Love and, from the 'Let it Be' album, Get Back, The Long and Winding Road and Don't Let Me Down - you're never more than a song away from another classic hit.
Note-perfect performances, the original instruments and custom-tailored costumes bring to life The Beatles as we fondly remember them. From their mop top beginnings to Sgt Pepper's psychedelia, on to Abbey Road and beyond, this deliciously-delivered treat is served with Lennon and McCartney's famed banter for good measure.
Widely regarded as one of the leading tribute acts, playing to sell-out audiences throughout the world, Beatlemania regularly appear on TV and radio and have performed for many celebrities including David and Victoria Beckham, Sir Richard Branson and Madonna.
Now is your chance to experience the magic for yourself and dance the night away with sensational sounds of the swingin' sixties. Book early to avoid disappointment.Wed 23 Sep 2020
Time 
8pm
Tickets
£25 All tickets
Running Time
2hr 20mins
Age restrictions
6+
PLEASE NOTE There will be no booking fee for this event. Wheelchair spaces are not currently available.