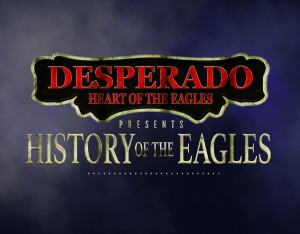 The Eagles are unarguably one of the rock music's biggest, most enduring and influential bands and DESPERADO are as close as you could get to the real deal, back at the Brookside Theatre by popular public demand. 
DESPERADO are a 'world class', experienced and authentic Eagles tribute band. Now in their 12th year, the band perform the whole repertoire of Eagles tracks in their new show
THE HISTORY OF THE EAGLES
, from tasteful country rock - complete with the trademark, immensely powerful vocals harmonies - through to hard rocking numbers, showcasing the Eagles' trademark duelling electric guitars.
Lauded for their accuracy, DESPERADO are a tribute to the Eagles, pure and simple, performing many of the band's greatest hits, including 
Hotel California, Life In The Fast Lane, Lyin' Eyes, Heartache Tonight, Take It To The Limit, Desperado, Tequila Sunrise, Take it Easy, Best of My Love, Witchy Woman, One of These Nights
 and so many more.
Take the opportunity to sit back and close your eyes, you'll swear you're hearing Don Henley, Glenn Frey and the rest of the talented artists that made The Eagles such a lasting success.Sat 14 Nov 2020
Time 
8pm
Tickets
£19 All tickets
Running Time
2hr 20mins
Age restrictions
6+
PLEASE NOTE There will be no booking fee for this event. Wheelchair spaces are not currently available.