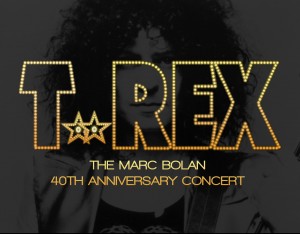 To commemorate the 40th anniversary of the death of Marc Bolan, join us once again for a nostalgic, musical roller-coaster ride back to the sensational 1970's with TooREX, the world's definitive tribute to the legendary T.REX.
In his all too brief lifetime, Bolan achieved unparalleled chart success with no less than 14 top twenty hits. Now, TooREX, featuring the incredible Bobby T as 'Marc Bolan', will take you back to the Glam Rock era with a spellbinding, hit show that faithfully recreates Bolan's career, from the early hippy period of 'Tyrannosaurus Rex' to the guitar-wielding megastar days of T.REX. Complete with authentic costume changes, retro instruments, glitter and more than a dash of star quality, TooREX come incredibly close to the real thing.
This electrifying rock concert features all the hits, from the early singles such as
Deborah, One Inch Rock
and
Ride A White Swan
to the classic anthems
Get It On, Telegram Sam, 20th Century Boy, Hot Love, Metal Guru, Jeepster, I Love To Boogie
and
Children of the Revolution
.
With international sell-out shows and a Glam revival in full swing, there has never been a better time to grab your spaceball-shoes and feather boas and relive the legend of Marc Bolan and T.REX in this high octane show, not to be missed.
Fri 22 Sep 2017
8pm
£18 All tickets
PLEASE NOTE There will be no booking fee for this event. Wheelchair spaces are available but subject to availability. Patrons with wheelchairs MUST book tickets by telephone at least three weeks prior to the date of the event.