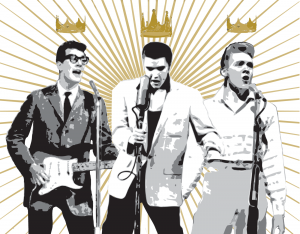 Following on from its sell out show last Christmas, WE THREE KINGS OF ROCK 'N' ROLL return to the theatre this December by popular demand.
Three West End performers present, live on stage, a high-energy, high-octane tribute show packed full of classic hits and festive favourites.
Join stage and screen actor, Gavin Stanley
(as 'Billy Fury')
, Marc Robinson
(as 'Buddy Holly')
and Steve Halliday
(as 'Elvis')
, both from ITV's
Stars In Their Eyes
, as they pay tribute to THREE KINGS OF ROCK 'N' ROLL! Three world-class tribute artists, one rockin' live band and a Christmas Party you'll never forget!
Fri 8 Dec 2017
8pm
£20 All tickets
PLEASE NOTE There is no booking fee for this event. Wheelchair spaces are available but subject to availability. Patrons with wheelchairs MUST book tickets by telephone at least three weeks prior to the date of the event.