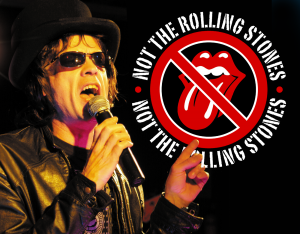 The Rolling Stones are one of the greatest rock'n'roll bands in the world. Their appeal is universal, their sound is all their own - and they've been going strong for over half a century.
NOT THE ROLLING STONES are not just another Stones tribute. Aside from their incredible musicianship and attention to detail what truly sets them apart is their frontman and supremo Jagger lookalike, Mike Jagger, who has made countless television and film appearances himself as "the next best thing to Sir Mick himself".
Back by popular demand, NOT THE ROLLING STONES set the stage alight with all of the energy and excitement of a real live 'Stones' concert. This is a serious tribute to the music, an electrifying show featuring a host of rock hits and anthems from the Stones' 30+ albums, including Satisfaction, Start Me Up, Honky Tonk Women, Jumping Jack Flash, Sympathy for the Devil, Brown Sugar, Paint It Black, Get Off Of My Cloud and many, many more.
NOT THE ROLLING STONES perform the music of The Rolling Stones faithfully, accurately and with all the excitement an audience would expect from 'The World's Greatest Rock 'n' Roll Band'.

If you missed them last time they played at the Brookside Theatre, don't miss them again .. these guys really do rock!


Sat 4 Mar 2017
8pm
£17 All tickets


PLEASE NOTE There is no booking fee for this event. Wheelchair spaces are available but subject to availability. Patrons with wheelchairs MUST book tickets by telephone at least three weeks prior to the date of the event.