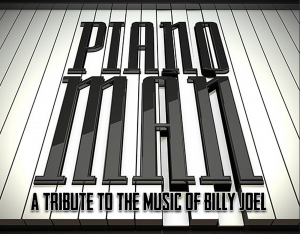 PIANO MAN - A TRIBUTE TO BILLY JOEL is a hit show that celebrates the musical works and song writing of one of Rock and Pop music's most accomplished musicians – Billy Joel.

Billy Joel is a 6-time Grammy award-winning singer / songwriter and one of the top 20 selling recording artists in history with more than 150 million album sales to date. PIANO MAN - A TRIBUTE TO BILLY JOEL offers the very best of Billy Joel, spanning his entire, incredible career from the 70's, 80's and 90's.

This stunning 5-piece band, faithfully recreate all of the greatest hits and album classics, while delivering the energy and raw power of a Billy Joel concert. From classic pop songs like Uptown Girl, We Didn't Start The Fire, River Of Dreams, Movin' Out, Tell Her About It, It's Still Rock And Roll To Me, My Life and An Innocent Man; to the style and sheer class of New York State Of Mind, Just The Way You Are and She's Always A Woman, all the hits are here in an electrifying evening not to be missed.

Sat 3 Jun 2017
8pm
£18 All tickets


PLEASE NOTE There is no booking fee for this event. Wheelchair spaces are available but subject to availability. Patrons with wheelchairs MUST book tickets by telephone at least three weeks prior to the date of the event.