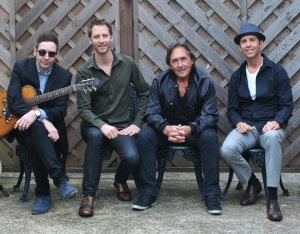 Father and son, Chesney and Chip Hawkes are finally fulfilling a long-held ambition to tour together. Alongside Chesney's brother Jodie and long-time Robbie Williams' guitarist, Gary Nuttall, Chesney and Chip will take audiences on a fascinating journey through their combined musical history, starting with Chip joining the Tremeloes in 1966 and extending beyond Chesney's 1991 UK No.1,
The One and Only
.
Expect to hear Tremeloes songs, along with Hawkes' family favourites and of course, Chesney's own songs including 'that' big hit from the 90's. With a chance for Q&A's and some great rock 'n' roll stories thrown in for good measure, this will definitely be an evening to remember.
Sun 26 Feb 2017
8pm
£19 All tickets
PLEASE NOTE There is no booking fee for this event. Wheelchair spaces are available but subject to availability. Patrons with wheelchairs MUST book tickets by telephone at least three weeks prior to the date of the event.