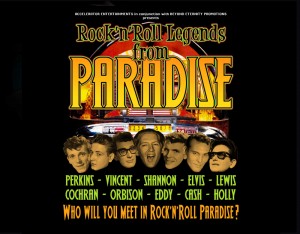 ROCK 'N' ROLL PARADISE
has been touring the country's top theatres for the last 8 years - now the 'legends' from the show are putting on exclusive shows in some of the UK's specially chosen, highly rated but smaller capacity venues in order to ensure that rock 'n' roll is truly available to all.
The show's producers are not disclosing 'who' will be performing at each show, but they are promising that every performance will be of the same highest quality and featuring some of the the country's best tributes to rock 'n' roll's stars, performing the very best songs ever written and supported by the explosively dynamic Paradise Band.
Amongst those 'appearing' will be Gene Vincent, Buddy Holly, Jerry Lee Lewis, Roy Orbison, Johnny Cash, The Everly Brothers, The Big Bopper, Carl Perkins, Del Shannon, Eddie Cochran and even the king himself - Elvis... The question is, who will you be lucky enough to see? Come join the party!
Fri 17 Nov 2017
8pm
£17 All tickets
PLEASE NOTE There will be no booking fee for this event. Wheelchair spaces are available but subject to availability. Patrons with wheelchairs MUST book tickets by telephone at least three weeks prior to the date of the event.