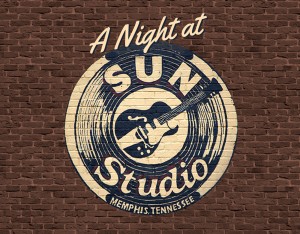 A NIGHT AT SUN STUDIO
is a tribute to Sam Phillips' recording studios in Memphis Tennessee - the place where rock 'n' roll cut its first record with Jackie Brenston's
Rocket 88
and where icons such as Elvis Presley, Jerry Lee Lewis, Carl Perkins, Johnny Cash, Roy Orbison and Howlin' Wolf all emerged to become worldwide stars.
With songs such as Great Balls Of Fire, Blue Suede Shoes, Whole Lotta Shakin, That's All Right Mama, Walk The Line, Claudette, Smokestack Lightnin'
and many many more this is a show that takes you back to the heart, soul and origins of rock 'n' roll. Come join the party!
Fri 17 Nov 2017
8pm
£17 All tickets
PLEASE NOTE There will be no booking fee for this event. Wheelchair spaces are available but subject to availability. Patrons with wheelchairs MUST book tickets by telephone at least three weeks prior to the date of the event.