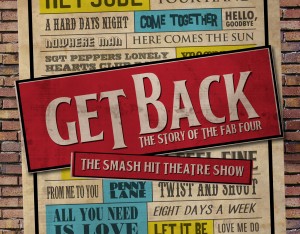 GET BACK – THE STORY OF THE BEATLES charts the story of unarguably the most important pop group of all time on their path to international fame.
With songs including
Help, Love Me Do, Yesterday, Twist and Shout, Let It Be, She Loves You, All You Need Is Love, Hard Day's Night
and
Hey Jude
,
GET BACK – THE STORY OF THE BEATLES
bring back to the stage, the legendary band for one night only. From the authentic costumes and instruments to pitch perfect harmonies, this incredible band recreate the music and look with astonishing accuracy.
This spectacular concert is a 'Magical Mystery Tour' of the Fab Four's career from the early Cavern days, through the psychedelia of Sgt Pepper and on to the final farewell '69 concert on the Apple rooftop; a high-energy show that promises a night of rock 'n' roll not to be missed complete with video footage that will take audiences on a nostalgic trip down memory lane.
So Come Together and enjoy
GET BACK – THE STORY OF THE BEATLES
. An absolute must for live music and Beatles fans alike.
Fri 24 Nov 2017
8pm
£17 All tickets
PLEASE NOTE There will be no booking fee for this event. Wheelchair spaces are available but subject to availability. Patrons with wheelchairs MUST book tickets by telephone at least three weeks prior to the date of the event.