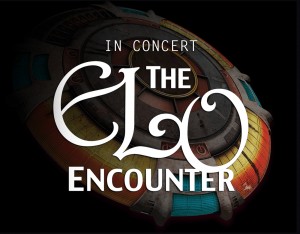 Roll over Beethoven, the UK's No.1 Electric Light Orchestra tribute show returns to the Brookside by overwhelming popular demand! To celebrate the 40th anniversary of ELO's spectacular 1978 World Tour, THE ELO ENCOUNTER are returning with a brand new show featuring even more classic hits.

Not merely a flawless recreation of the incredible music of ELO, this is a spectacular live show from start to finish. Stunning lights and special effects create an atmosphere that will have you fully immersed in the experience. This high-energy show is guaranteed to have the hairs on the back of your neck dancing to a host of classic hits from the song-writing genius, Jeff Lynne including Mr. Blue Sky, Evil Woman, Telephone Line, Rock & Roll is King, Don't Bring Me Down, Livin' Thing, Sweet Talkin' Woman, Turn to Stone and many more!

Revel in ELO's unique symphonic rock style and hear some of the most unforgettable classic rock and pop songs of our generation.

"★★★★★ Fantastic performance, I've never seen such a standing ovation here!"- Phil Pattie, Braintree Arts Theatre

"★★★★★ Simply outstanding!" - Zoe Goober, Roadhouse Birmingham

"★★★★★ The best tribute band we have seen in a very, very long time." - Laila France, Fisher Theatre, Bungay

"A brilliant night out!" - Steve Scruton, BBC Radio Essex

Sat 1 Dec 2018
8pm
£18 All tickets


PLEASE NOTE There is no booking fee for this event. Wheelchair spaces are available but subject to availability. Patrons with wheelchairs MUST book tickets by telephone at least three weeks prior to the date of the event.