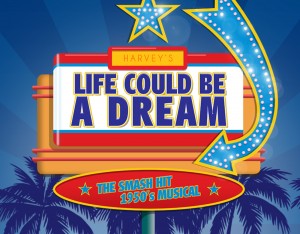 In association with Strictly Theatre, the Brookside Theatre present the UK premiere of this hilarious award-winning 1950's musical comedy.
Take a trip to Springfield and meet Denny and the Dreamers, a fledgling doo-wop singing group preparing to enter a radio contest to realise their dreams of making it to the big time! Trouble comes in the form of Lois, who arrives to put some polish on the boys. Denny falls in love, Wally falls in line, Eugene falls apart, and along comes handsome heartthrob Skip to send the whole situation spinning.
Packed with classic hits from an unforgettable era;
Fools Fall In Love, Tears On My Pillow, Runaround Sue, Earth Angel, Stay
and
Unchained Melody
and winner of the Los Angeles Drama Critics Circle Best Musical Award,
LIFE COULD BE A DREAM
will leave you laughing, singing and savouring the decade of sock hops, soda pops and Drive-In movies.
From the team that brought you
Forever Dusty
,
LIFE COULD BE A DREAM
is a fantastic high-energy premiere not to be missed!
Tue 5 - Sat 9 Sep 2017
8pm (Saturday Matinee 2pm)
£18 (Concessions £15)
PLEASE NOTE There will be no booking fee for this event. Wheelchair spaces are available but subject to availability. Patrons with wheelchairs MUST book tickets by telephone at least three weeks prior to the date of the event.