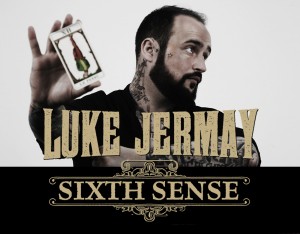 Luke Jermay is the most incredible man you've probably never heard of... he can read your mind.
No really; he can read your mind. He doesn't use mind games or psychological tricks; he is not a trickster, there are no smoke and mirrors. He can simply read your mind.
His awe inspiring intuitive abilities have gained him high profile fans such as Derren Brown, Dynamo and Uri Geller who all agree Jermay is astonishing. SIXTH SENSE has gained critical acclaim with five-star reviews from Edinburgh to London's West End. You'll be amazed at Jermay's incredible powers; he knows your past, present and future, sometimes better than you do. From your favourite schoolteacher, childhood pet even the colour of your underwear, Jermay impossibly knows all, sees all and tells (almost) all in an expert display of telepathy developed to amazing razor sharp accuracy.

"My jaw dropped repeatedly... Jermay puts us in a state where we can wonder whether life has more possibilities than we thought it did an hour before" - The Times
"Jermay is a genius of modern mind reading. See his amazing live show!" - Dynamo
"Jermay is mind blowing. You would be out of your mind to miss this show!" - The Sun
"Jermay is one of my favourite performers! See his show!'" - David Blaine
"Jermay is the Devil, pure and simple...he is spookily accurate, which left us wondering whether to applaud or run screaming in terror...see Sixth Sense right now." - The Void
"Jermay puts the rest of us mind readers to shame" - Derren Brown

Fri 9 Feb 2018
8pm
£16.50 All tickets


PLEASE NOTE There will be no booking fee for this event. Wheelchair spaces are available but subject to availability. Patrons with wheelchairs MUST book tickets by telephone at least three weeks prior to the date of the event.