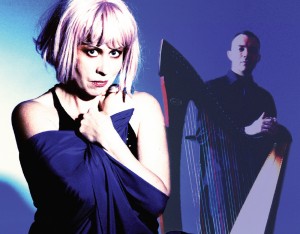 By popular demand following last year's sell-out concert, a very special evening with award-winning singer-songwriter Hazel O'Connor, performing here in a captivating acoustic line-up with Cormac de Barra on Irish Harp, her musical partner for some 15 years. The combination of de Barra's harp with Hazel's unforgettable voice is truly magical, melding Hazel's heartfelt lyrics with the musicianship of Cormac in a stirring musical marriage.
 
Cormac De Barra has toured the world extensively and also performs with Moya Brennan the voice of Clannad. Coinciding with the 2017 release of 'See You Again', expect a fine mix of the old and new featuring stunning  new songs celebrating 37 years of performance. No O'Connor show is complete without her original classics Will You, D-Days, Eighth Day, Big Brother, If Only and more, all of which seem even more relevant in our present times. 

A sumptuous night of some of the greatest songs of the 20th Century delivered with passion and fire followed by a 'meet and greet'... an unmissable evening.

"Simply stunning!" - Janice Long, BBC Radio2

"The expressive power of her singing, her song writing craft and warm, strong personality here with Cormac De Barra's expert playing of the Irish Harp" - The Times

"Sumptuous songs with a soulful, introspective lyrical depth helped by Cormac de Barra's exquisite harp. Seamless forays into pop blues and soul, and the familiar silken gravel of O'Connor's voice." - Irish Times

Thu 19 Apr 2018
8pm
£20 All tickets

There will be no support act for this event.


PLEASE NOTE There will be no booking fee for this event. Wheelchair spaces are available but subject to availability. Patrons with wheelchairs MUST book tickets by telephone at least three weeks prior to the date of the event.