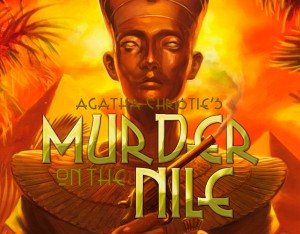 Following last year's hugely successful production of 'The Ghost Train', the Brookside Theatre are proud to present a stylish and exciting new production of the Queen of Crime's classic thriller, MURDER ON THE NILE.

On board a steamer, cruising under the scorching Egyptian sun, honeymooners Simon Mostyn and his wealthy socialite wife Kay find themselves being pursued by an old flame of the newly wedded groom. Tragedy strikes... a body is discovered and all fingers point to Simon's ex fiancée but everything is not what it seems and holidaying cleric, Canon Pennefather is drawn into a web of intrigue and deceit as he finds himself on the trail of a ruthless murderer.

MURDER ON THE NILE is unarguably one of Agatha Christie's most iconic thrillers, packed full of autocratic dowagers, bright young things, suspicious foreigners, exotic locations and a plot which twists and turns like the Nile itself.

'An exhilarating night out.' - The Herald

'A sublime homage to the Christie masterpiece.' - The Gazette

Wed 6 - Sat 9 Jun 2018
8pm (2pm Sat matinee)
£16 (£13 Conc.)


PLEASE NOTE There will be no booking fee for this event. Wheelchair spaces are available but subject to availability. Patrons with wheelchairs MUST book tickets by telephone at least three weeks prior to the date of the event.