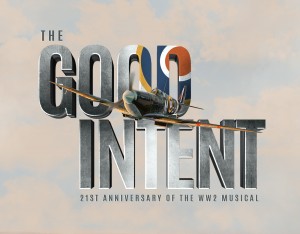 One ordinary man. One heroic action. One community that will never forget.

Romford's Brookside Theatre offers a fantastic opportunity to enjoy this major theatrical experience in their first Community Production.

After ten successful missions fighting against the Germans, one heroic deed by an American Spitfire pilot changed the lives of the people of Havering forever. First produced in 1997 and written by local playwrights, Dave Ross and Gerry Sweeney, THE GOOD INTENT tells the incredible true story of Raimund Sanders-Draper, a young American who finds himself posted to Hornchurch's Battle of Britain airfield, attracted by the allure of flying Spitfire fighter planes. The immediate affect that 'the Yank' has on his brother pilots, the townsfolk and in particular the local schoolchildren, culminates in him making the ultimate sacrifice.

Both dramatic and funny in equal parts, this heartwarming musical is supported by emotional and uplifting songs that give the audience an insight into the hearts and minds of all those whose lives were touched by the presence of this extraordinary man. This really is a golden opportunity to experience a flavour of wartime Havering and to see why THE GOOD INTENT is held in such high esteem.

"The Good Intent has all the elements and quality of a local story written by local authors and songwriters that has to be told and told again." - Romford Recorder

"The Good Intent proved so popular that the musical play was revived many times by popular demand." - Rhyannon Richardson, theatre designer

Tue 24 - Sat 28 Jul 2018
8pm (2pm Sat matinee)
£16 (£14 Conc.)


PLEASE NOTE There will be no booking fee for this event. Wheelchair spaces are available but subject to availability. Patrons with wheelchairs MUST book tickets by telephone at least three weeks prior to the date of the event.