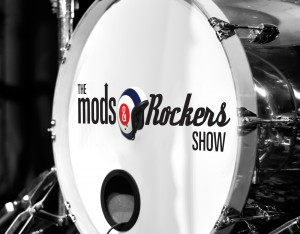 THE MODS & ROCKERS SHOW... Which side were you on? Remember the Brighton riots? Lambrettas, Nortons, parkas and leathers? When you had to choose between being a Mod or a Rocker? Celebrate that magical period in the 60's and 70's with THE MODS & ROCKERS SHOW.

The electrifying, 100% live concert brings you a night of classic songs by artists including The Who, The Rolling Stones, The Kinks, Jimi Hendrix, T. Rex, Eddie Floyd, The Equals, Toots & The Maytals, The Small Faces, Mott the Hoople, Chris Montez, The Animals, Pink Floyd, The Beatles, Procol Harum... plus many more.

THE MODS & ROCKERS SHOW is brought to you by Johnny Warman's Magic Bus – one of the UK's most energetic and entertaining bands. The band has written and performed with many top international artists, including Elton John, David Bowie, Ringo Starr, Peter Gabriel, Asia, Julian Lennon, ABC, Cheap Trick, Bruce Springsteen, and Foo Fighters.

"The greatest sixties band on the planet." - Time Out magazine

"Songs to delight the diehard fans and casual observers… played stunningly." - The Herald

"If you want to see an electric performance by a band that loves music and loves what they do, go and see Johnny Warman's Magic Bus." - Ridge Radio

Sat 29 Sep 2018
8pm
£19 All tickets


PLEASE NOTE There will be no booking fee for this event. Wheelchair spaces are available but subject to availability. Patrons with wheelchairs MUST book tickets by telephone at least three weeks prior to the date of the event.