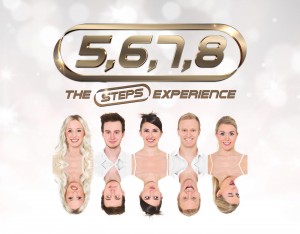 "Everybody clap your hands, get on up and dance..." The Brookside Theatre in association with Strictly Theatre Entertainments Ltd. are proud to present the debut performance of 5, 6, 7, 8 - THE STEPS EXPERIENCE.

Formed in 1997, Steps quickly became a global phenomena and literally re-shaped Brit-pop with a cavalcade of classic party anthems. Between 1997 and 2001, they achieved two number one singles, two number one albums, 14 consecutive top 5 singles and a string of hits throughout Europe.

This high-energy show faithfully recreates the iconic Steps dance routines with slick vocals and all the hits including One For Sorrow, Tragedy, Chain Reaction, Summer of Love, Stomp, Dancing Queen, Deeper Shade of Blue, Say You'll Be Mine, Better Best Forgotten, Last Thing On My Mind as well as tracks from their latest album, Tears on the Dancefloor... this is one show to get audiences on their feet and dancing in the aisles.

Don't miss 5, 6, 7, 8 - THE STEPS EXPERIENCE.. it would be a Tragedy! Come join the party! 

Sat 6 Oct 2018
8pm
£18 All tickets
PLEASE NOTE There will be no booking fee for this event. Wheelchair spaces are available but subject to availability. Patrons with wheelchairs MUST book tickets by telephone at least three weeks prior to the date of the event.