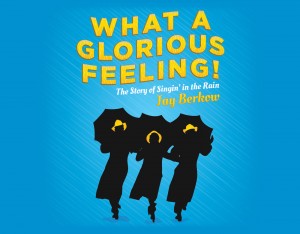 WHAT A GLORIOUS FEELING! is a fantastic new musical inspired by true events; bringing to life the little known behind-the-scenes story of the tempestuous love triangle between Hollywood legends Gene Kelly, Stanley Donen and Jeanne Coyne during the creation of the greatest movie musical of all time Singin' in the Rain. This production marks the UK premier of this Off-Broadway hit. 
 
There's lightning in a bottle but a storm behind the scenes at the studio where Gene Kelly begins work on Singin' in the Rain. He's determined to keep both his long-time collaborator Stanley Donen and trusted assistant Jeanne Coyne on set… despite the fact that they've just divorced and the torch Coyne carries for Kelly is the reason why. To top it off, their producer is wrestling with the studio for resources, and newly hired co-star Debbie Reynolds can't even dance.
 
This unforgettable show features a host of classic hits Make 'Em Laugh, Good Morning,  All I Do I Dream of You and, of course, Singin' In The Rain and gives the audience an exciting opportunity to experience the choreographic process that created some of Hollywood's most exciting and enduring dance sequences.
 
One of the greatest movie musicals of all time is born in this intimate backstage play featuring the classic music, songs and dance of golden-era MGM.

"Fans of classic Hollywood dance would be nuts to miss this show." - Chicago Tribune
"A delightful mix of storytelling, singing and dancing that will have you humming the tunes--and maybe even dancing a bit--as you leave the theatre." - Ashland Daily Tidings
"I felt like I came to know these five characters as real people, and not just as the legends I knew them to be before I arrived." - Broadway World
"A fascinating glimpse into the past... This is a can't miss show for anyone who loves old movie musicals and film history." - Stage Magazine


Wed 10 - Sat 13 Apr 2019
8pm (2pm Sat matinee)
£20 (£18 Conc.)

PLEASE NOTE There will be no booking fee for this event. Wheelchair spaces are available but subject to availability. Patrons with wheelchairs MUST book tickets by telephone at least three weeks prior to the date of the event.