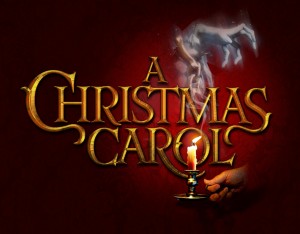 Ready for Christmas? Neither is Scrooge. But it can take just one night to change your life forever...
This holiday season, rediscover the true joy of Christmas 'spirit' as the Brookside Theatre take you on an unforgettable and magical journey with this exciting musical adaptation of one of Charles Dickens' best-loved tales.
A CHRISTMAS CAROL
tells the story of Ebenezer Scrooge, a mean and lonely man who prefers money to people. But this Christmas Eve will be like none that had gone before as he is visited by the ghosts of Marley, his ex-partner and those of Christmases Past, Present and Future. With them, he embarks on an incredible journey... a journey to discover the true meaning of Christmas.
Bringing the atmosphere of Victorian Christmas traditions to the stage with a cavalcade of colourful characters, a ghostly quartet, hilarious script and fabulous songs,
A CHRISTMAS CAROL
is the perfect way to get you into the Christmas spirit. A dazzling and magical spectacular not to be missed.
Wed 12 - Sat 22 Dec 2018
8pm (2pm Sat matinees)
£18 (£15 Conc.)
PLEASE NOTE There will be no booking fee for this event. Wheelchair spaces are available but subject to availability. Patrons with wheelchairs MUST book tickets by telephone at least three weeks prior to the date of the event.