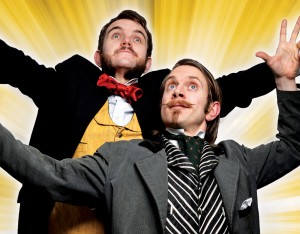 Great Scott! Time-travelling magicians Morgan & West bring a magical extravaganza to a millennium near you! Not content with their lot as the nineteenth century's greatest magic duo, this prestidigitatory pair present a conjuring spectacular to the audiences of the modern day and back at the Brookside Theatre by outstanding popular demand!
No future is left unseen and no timeline left unaltered as these temporal tricksters burst into the twenty-first century with a show brimming over with baffling magic, unparalleled precognitive powers, and a totally genuine ability to travel through time! An unforgettable evening of magic, mystery, and the unexplainable.  
★★★★★ 'Brilliantly funny'
ThreeWeeks
★★★★ 'Hugely talented'
Daily Mirror
★★★★ 'Superbly Crafted'
The Stage
Fri 1 Mar 2019
8pm
£16 (£14 Conc.)
PLEASE NOTE There will be no booking fee for this event. Wheelchair spaces are available but subject to availability. Patrons with wheelchairs MUST book tickets by telephone at least three weeks prior to the date of the event.