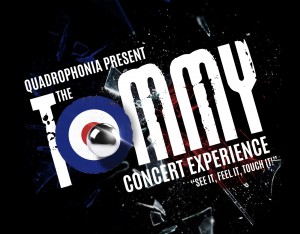 2019 marks the 50th Anniversary of The Who's most universally-known and highly-acclaimed concept album, TOMMY. To commemorate this landmark, the UK's No.1 Who tribute band, Quadrophonia in association with the Brookside Theatre and Strictly Theatre Entertainments Ltd. present THE TOMMY CONCERT EXPERIENCE.THE TOMMY CONCERT EXPERIENCE
, is a 100% live concert performance of the classic 1969 album, with the band meticulously recreating the rock opera TOMMY - including the hits
Amazing Journey, We're Not Gonna Take It, I'm Free
and of course,
Pinball Wizard
- as recorded and performed by Pete Townshend and The Who. This high octane show comes complete with an outstanding video and light show. More an oratorio than an opera, this is not the Broadway theatrical musical production, but the original sound, production and arrangements of the classic rock album.
Quadrophonia are the UK's foremost tribute to the super group, capturing a magical period in time when many believed that The Who were the greatest rock band on earth. The ultimate tribute, their stage act faithfully recreates a golden era in rock history complete with authentic costumes and instruments; Hiwatt Amps, Rickenbacker guitars, white boiler suits and Dr. Martins, high-energy drummers, mic whirling and tambourine smashing. An evening of pure rock nostalgia not to be missed.
Sat 23 Mar 2019
8pm
£18 All tickets
PLEASE NOTE There is no booking fee for this event. Wheelchair spaces are available but subject to availability. Patrons with wheelchairs MUST book tickets by telephone at least three weeks prior to the date of the event.