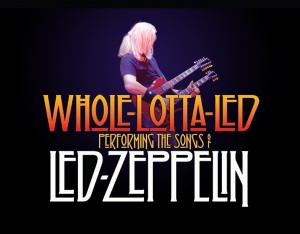 2019 marks the 50th anniversary of the release of one of the greatest albums of all time – Led Zeppelin II. Containing such classics as Ramble On, Thank You and Whole Lotta Love, this LP was the one which catapulted Led Zeppelin from being just another sixties blues group to becoming one of the most influential and successful bands of all time. It was the first of their albums to reach number one, toppling the Beatles' Abbey Road in the process, and staying on the LP chart for a total of 138 weeks.
To celebrate the release of this historic, ground-breaking album, world class tribute, Whole Lotta Led, will perform the album in its entirity, alongside many of the greatest anthems from Led Zeppelin's vast back catalogue.
Whole Lotta Led have always avoided using wigs and costumes, instead they focus on the music and recreating the sounds of Led Zeppelin's original studio albums with an astonishing level of accuracy - it as all about celebrating the incredible music which Jimmy Page, Robert Plant, John Paul Jones and John Bonham created during their illustrious career. Since their formation in 1996 the band have continually led the field of Zep tributes and with over 1,300 shows to their name they have performed Stairway To Heaven more than any other band in the world – INCLUDING Led Zeppelin. Each member has 'paid their dues' in numerous bands throughout the years and have played and recorded with many well-known names in the music business, but now they have joined together to perform some of the greatest music ever written with a passion and enthusiasm that is second to none.
Don't miss a special celebration of this timeless album and a night of some of the greatest rock anthems ever written.
"★★★★★ You're getting great reviews, I wish you all the best!"
- Jimmy Page
Fri 18 Oct 2019
8pm
£20 All tickets
PLEASE NOTE There is no booking fee for this event. Wheelchair spaces are available but subject to availability. Patrons with wheelchairs MUST book tickets by telephone at least three weeks prior to the date of the event.