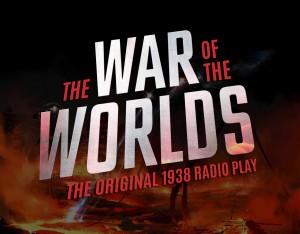 "No one would have believed in the last years of the nineteenth century that this world was being watched keenly and closely by intelligences greater than man's." – H.G. Wells
On the 30th October, 1938, Orson Wells' radio adaptation of H.G. Wells 1898 novel,
THE WAR OF THE WORLDS
caused mass hysteria, convincing thousands of panicked listeners across North America that Earth was doomed in a desperate struggle with beings from another planet. The gripping script was broadcast to an anxious American audience eighty years ago but still leaves its residue on today's pop culture.
For the first time in the UK, the Brookside Theatre will present a reading of this infamous radio play, believed by many to be the most famous broadcast in radio history. Accompanied by high-tech lighting, stage effects and projected imaginary, this original script detailing the frightening tale of an extra-terrestrial takeover will be brought to life on stage, guaranteed to thrill and chill audiences.  
"So terrifying in its accounts of invading Martians wielding deadly heat-rays that it is remembered like no other radio programme."
-
Professor W. Joseph Campbell, BBC News Magazine
"The War of the Worlds remains vibrantly alive in the public consciousness."
- 
Leonard Maltin, Indiewire
Fri 17 & Sat 18 May 2019
8pm
£16 (£14 Conc.)
PLEASE NOTE There will be no booking fee for this event. Wheelchair spaces are available but subject to availability. Patrons with wheelchairs MUST book tickets by telephone at least three weeks prior to the date of the event.