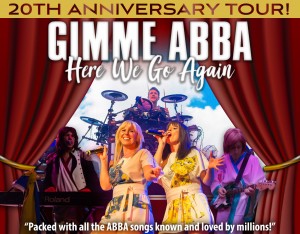 "ABBA have left a fine musical legacy, and it's in good hands."
GIMME ABBA
are unarguably one of the best-loved tributes to the sensational 1970's supergroup and 2019 marks the band's 20th anniversary.
This unique, live stage show has developed over the years into much more than "just another Abba tribute" as the band faithfully reproduce the charismatic stage presence of the flamboyant and 'glam' four. This superb 2-hour show features a repertoire that draws from the greatest hits of Sweden's most famous export and includes fascinating theatrical elements; costume changes, choreographed dance routines and outstanding four-part vocal harmonies which combine to create that ultimate Abba experience.  
Suitable for all ages, this is a show not to be missed. So dust off those platforms, put on your flares and join us on an unforgettable and nostlagic trip back to the 1970's.Sat 17 Aug 2019
8pm
£19 All tickets
PLEASE NOTE There will be no booking fee for this event. Wheelchair spaces are available but subject to availability. Patrons with wheelchairs MUST book tickets by telephone at least three weeks prior to the date of the event.