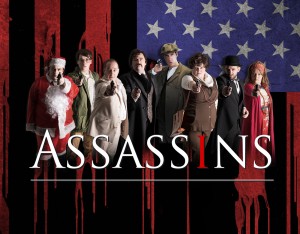 '★★★★★
Bold, disturbing and alarmingly funny!"
"Everybody's got the right to be happy." But what if that means assassinating the President of the USA?
Winner of 5 Tony Awards,
ASSASSINS
 has been referred to as "the most controversial musical ever written". A surprisingly witty and moving theatrical tour-de-force with intelligently brilliant lyrics and extraordinarily beautiful music.
Produced by the team that brought you
A Christmas Carol
and
 Little Shop Of Horrors,
this dazzling production gives new meaning to the phrase "killer musical" as it delves into the lives, loves and lunacy of nine people who assassinated - or attempted to assassinate - the most powerful man on Earth, some with greater degrees of success than others, but all sharing in the desire to pull the trigger in the twisted pursuit of that illusive American Dream.
Generally dismissed as maniacs and misfits, this group of murderers and would-be killers have little in common with each other, and nothing in common with the rest of us... or do they? Sondheim's signature blend of intelligently stunning lyrics and beautiful music combine to create a disturbingly dark musical comedy not to be missed.
Thu 25 - Sat 27 Apr 2019
8pm (2pm Sat mat)
£18 (£15 Conc.)
CONTENT WARNING: The show contains strong language and mature themes that are not suitable for young audiences. It also contains strobe lighting, live gun shots and theatrical smoke.
PLEASE NOTE There will be no booking fee for this event. Wheelchair spaces are available but subject to availability. Patrons with wheelchairs MUST book tickets by telephone at least three weeks prior to the date of the event.