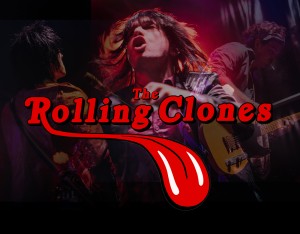 "Without a doubt the most exciting tribute to the Rolling Stones… Outstanding" – The Daily Mail.
THE ROLLIN' CLONES are one of the best Stones' tributes in the world today; they have been entertaining 'sell-out' audiences across the country for almost twenty years, distilling the show down to a pure hit of rock 'n' roll with a chaser of sequinned glam.
One of the world's greatest rock 'n' roll bands, The Rolling Stones' appeal is universal, their sound all their own - and they've been rocking for over half a century. THE ROLLIN' CLONES set the stage alight with the raw energy and sheer excitement of a real 'Stones' concert. This electrifying show features a host of rock classics from the Stones' immense back catalogue, Start Me Up, Honky Tonk Women, Jumping Jack Flash, Sympathy for the Devil, Brown Sugar, Paint It Black, Get Off Of My Cloud and many more.

The music of The Rolling Stones recreated faithfully and accurately in a live concert bursting with excitement... "Satisfaction" guaranteed!

"The Rollin' Clones manage to re-create the Stones at their most prolific and do it with all the passion and raw energy of the real thing. Great fun, fine musicians and an excellent choice of songs. Not to be missed!" – The Rolling Stones Supporters Association

Sat 16 Nov 2019
8pm
£18 All tickets
PLEASE NOTE There will be no booking fee for this event. Wheelchair spaces are available but subject to availability. Patrons with wheelchairs MUST book tickets by telephone at least three weeks prior to the date of the event.