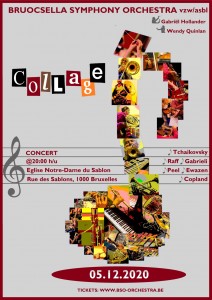 Programme:
Tchaikovsky - Serenade for Strings (Mvts I, III, IV)
Gabrieli - Sonata octavi toni
Raff - Sinfonietta for Double Wind Quintet
Ewazen - Symphony in Brass (Mvts I + III)
Peel - Dusk to Dawn
Copland - Fanfare for the Common Man
Sat, 5th December 2020
@ 20:00Tickets:
€20 Adult 
€15 Student / Under 18
In line with current regional and federal health provisions, the wearing of a
face mask and socially-distanced seating
(between people in different bubbles)
are mandatory
for indoor concerts. This is why we have limited the number of tickets available to 200.
The concert will last around 80 minutes, without an interval
. 
We look forward to seeing you for our first concert since last December.