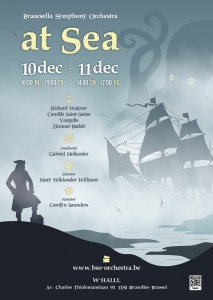 The BSO's all at SEA, Children's Concerts featuring:
• Saint-Säens
• Rimsky-Korsakov
• Rachmaninov
• Wagner
• Vangelis
• The Village People
Conductor: Gabriël Hollander
Director: Mary Wiklander-Williams
Narrator: Carolyn Saunders
Sat 10 December 2022     
- 16:00 Dutch concert
- 19:00 French concert
Sun 11 December 2022    
  - 14:00 English concert
  - 17:00 French concert
Ticket Prices:Stalls / Parterre
  - Adults:   21 Euros
  - Children (under 18): 15 Euros
Balcony (restricted view, with video screen) 
  - Adults:   15 Euros
  - Children (under 18): 9 Euros
Bar
The bar in the theatre foyer will be open before the show, so feel free to arrive in plenty of time.
You can pre-order your drinks upon arrival at the theatre, so they will be ready for you at the intermission and you won't have to queue.
Parking
: The theatre is in a residential area and parking is limited.  Please allow at least 10 minutes to walk from your car. 
Public Transport :
  10 minutes walk from Metro Line 1 (Roodebeek), Tram 8 (Parc des Sources), Trams 39, 44 (Chien Vert)