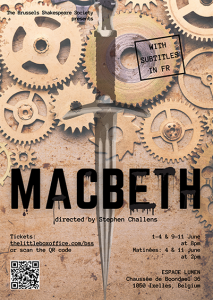 Shakespeare's
fast-moving play - one of the shortest in the canon - remains the supreme dramatic portrayal of the corrosive danger of unlimited ambition, and what happens when a leader identifies his or her own desires as being identical with those of the State. There could hardly be a more timely moment for this production!
Surtitles in French.
'Combi' Tickets
: These are valid for the 'date specified' performance of Macbeth
plus
valid for
admission to any
and all
the three nights the BSS presents the entries in its 2020 Short Play Competition. .
They will be:
6th June
: 'Will.I.am. am I?' by Stephen Challens and 'Yellow' by Geoffrey Mamdani.
7th June:
'Yellow', then 'Shortly To Go' by Ileas Konteas and Dimitrios Stasinopoulos
8th of June
: 'Shortly To Go', then 'Will.I.am.am I?
Further details of these plays at
the BSS website

A valid ticket for any of the shows gives free admission to the Festival Sunday Party on the 5th of June. €5 entry for non-ticket holders.