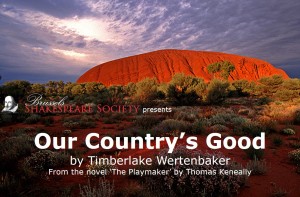 The 
Brussels Shakespeare Society
 presents
Our Country's Good​ by Timberlake Wertenbaker, after the novel 'The Playmaker' by Thomas Keneally
DATES
Tuesday 19 March to Saturday 23 March 2019 at 20:00.
Matinee on 23 March at 15:00
PLACE:
Espace T
heatral Scarabaeus
​rue Creuse 23, 1030 Schaerbeek
PRICE: 
20 Euros for Adults, 15 Euros for Concessions (pensioners, under 18s)
SPECIAL OFFER: GROUPS OF 5 OR MORE - 10 Euros (Adult/Concession)
Seats are not numbered.
SPECIAL OFFER SCHOOL GROUPS:
We offer a special rate for school groups (only available by email to 
bss.boxoffice@gmail.com
).
BOOKING:
Click "Book" on the bottom-right of the page and follow the instructions. You can pay by Credit/Debit card or make a reservation for transfer 'virement' payment. 
Please note that reservations do not trigger a confirmation email
.
Bank details are shown below and will be shown again at the end of the booking process.
DO PLEASE book using the online system - we occasionally get payments with no booking!
In case of booking problems:
- email us at 
bss.boxoffice@gmail.com
- Bank Transfer Address:
Brussels Shakespeare Society
IBAN: BE85 3100 2005 1606
BIC: BBRUBEBB
Please put 'OCG', the performance date, and your booking name as a payment reference, otherwise we may not be able to match your payment to your ticket reservation!