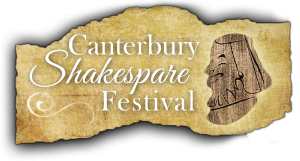 In keeping with our usual tradition we like to present the best experimental work and so this year we present 'Bard to the Future'. 
William Shakespeare is the most famous playwright in history, at least he was! When Shakespeare's timeline is altered by a malevolent time traveller out to erase his legacy he finds himself unwittingly thrown into an adventure spanning centuries! Join us as Shakespeare travels to the future and fixes his timeline before history forgets him altogether, battling overprotective parents, true love and writers block along the way!
If you love Back to the future, Shakespeare and high concept nonsense then this is will be your idea of a good TIME.
Recommended for Age: 13+
Wednesday 8th August 7.30pm
Sunday 12th August 7.30pm
Wednesday 15th August 7.30pm​Tickets
£5 Full price / Disability (includes free Carer)
Directions and further information about all performances can be found at our website: 
www.canterburyshakespeare.com