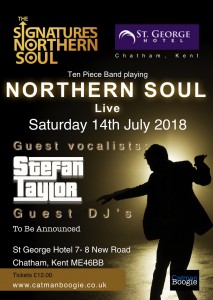 Catch the UK's leading Northern Soul band, The Signatures, live at the St. George Hotel in Chatham, Kent on Saturday 14th July 2018.
Stefan Taylor will be the lead vocalist for an evening that will keep you 'Out on the Floor'!
Guest DJ's to be announced.
An evening NOT to be missed!
Saturday 14th July 2018 - 8:00pm
Tickets
£12.00