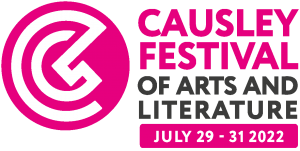 Stop by Charles Causley's final home Cyprus Well at 14:45 on the 29th of July for a tour of the property. Get to see the desk at which Charles wrote prolifically, in addition to the literature, music and art that are dispalyed that reveal so much about him. This space exudes creativity and the study continues to be a hub for writing, as the setting of our annual artist residencies. 
Saturday 30th July: 
Tour 1: 10:00 am - 10:45 
Tour 2: 11:15 am - 12:00

Ticket: Pay what you can Suggested ticket price (which can be paid as a donation): £2

This year's 'pay what you can' programme is highly subsidised by our funders - most especially the Arts Council. All events (except workshops) are free, but if you are able to support our work by making a donation at checkout we would be really grateful.