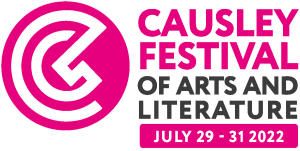 THE POETRY CONNECTION: Frances Corkey Thompson and Annie Fisher have built a bond of friendship through poetry. In this event, they will discuss their respective influences and approaches, sharing pairs of poems which are linked in some way. Expect serious debate enlivened with humour!
Frances Corkey Thompson: Pleasure in Poetry 
My poetry largely reflects my wanderings, real and imaginary. The child who grew up in Northern Ireland still toys in my brain with the responsible teacher, parent and grandparent. I shall be reading mainly from my third collection, Watching the Door, published by Sentinel Press, who kindly awarded me first prize in their competition.
Annie Fisher: Using Comedy with Serious Intent 
Reading and performing a varied selection of her poems, Annie Fisher hopes to entertain you by incorporating four of the elements she particularly relishes in poetry: levity, brevity, soul and song.
Saturday 30th July at 15:30-17:00
Tickets: Pay what you can Suggested ticket price (which can be paid as a donation): £5

This year's 'pay what you can' programme is highly subsidised by our funders - most especially the Arts Council. All events (except workshops) are free, but if you are able to support our work by making a donation at checkout we would be really grateful.