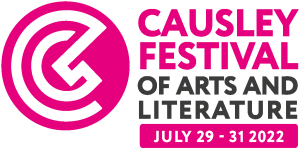 Join Angela France, Alyson Hallet and Charles Causley Trust Director Nicola Nuttall in the Guildhall in Launceston Town Hall for an evening of readings and conversation about Charles Causley's work, with the opportunity to ask questions as part of a Q&A. To begin, Angela and Alyson will each read a Causley poem of their own choice, followed by a reading from their personal collections. Following this they will read from 'Covid/Corvid' and discuss collaborative composition. To conclude, they will discuss Causley's poetry and his influences on their work. 
Saturday 30th July at 19:30-21:30
Tickets: Pay what you can
Suggested ticket price (which can be paid as a donation): £7.50

This year's 'pay what you can' programme is highly subsidised by our funders - most especially the Arts Council. All events (except workshops) are free, but if you are able to support our work by making a donation at checkout we would be really grateful.