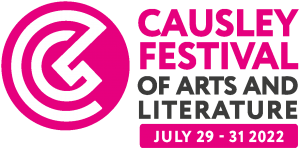 Arthur Quiller-Couch, Cornwall's most distinguished 20th Centrury novelist, always known as 'Q,' was much admired by Charles Causley. Q's many accomplishments and gilded career have veen ably documented by two biographers. Two male biographers. How different would the perspective on the eminent man be were his story recounted by the women closest to him? This is the question lying behind Julia Grigg's novel in progress and her choice of Mabel, Q's sister, also a writer, as her main character. Julia's presentation describes the exploration her fictional account makes of this somewhat vexed sibling relationship, and revealing they shared a dark secret as Q faced down a personal crisis, she also hints at what may have spurred him on to achieve fame in the way he did. 

Julia is joined on stage by actor Kim Hicks speaking in Mabel's voice. Kim is a Bristol-based specialist in historical re-enactment.
Friday 29th July at 12:15-13:00Ticket: Pay what you can 
Suggested ticket price (which can be paid as a donation): £5

This year's 'pay what you can' programme is highly subsidised by our funders - most especially the Arts Council. All events (except workshops) are free, but if you are able to support our work by making a donation at checkout we would be really grateful.